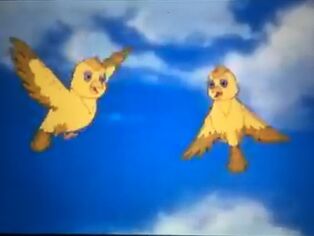 The Birds
are two animal characters from the 1999 film,
The Legend of the Titanic
.
Plot
The two yellow birds first appear when Top Conners and Ronnie let them out of there bird cage in one of the rooms on the RMS Titanic. After letting them out, they tell the two mice to not slam the cage door as their owner is a very light sleeper. They then help the mice get things ready for Elizabeth and Juan's greet.
Later, as Elizabeth and Juan see each other again, Conners tells one of the birds to give the orchestra the signal. The bird then tells the mice orchestra they can proceed. They are then seen at the celebration of Elizabeth and Juan's greet together.
Later on, after Elizabeth and Juan get married, they are seen flying by the carriage Elizabeth and Juan are riding in congradulating them for their marriage. They were then seen at the celebration at the New York harbor thanking Tentacles for saving everyone in the disaster.
Community content is available under
CC-BY-SA
unless otherwise noted.